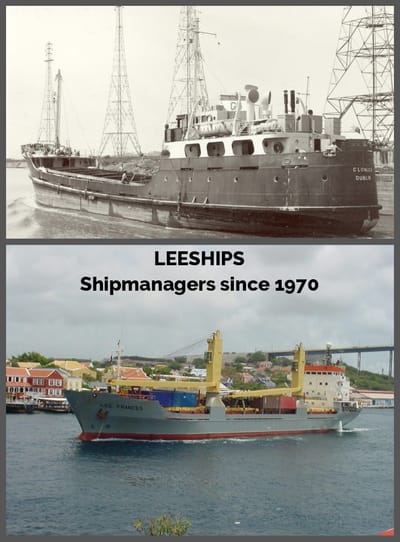 "Over half a century managing marine assets"
1970s - Lee Shipping Ltd
Lee Shipping Ltd was formed in 1970 to manage 2 small general cargo ships trading between the UK and Ireland until the mid-1980s. The company took its name from the mighty river Lee that rises in the Shehy Mountains and flows through the great merchant city of Cork and out to sea via Cork Harbour, the second largest natural harbour in the world. Many great mariners sailed from this river and it is in their honour that the company took its name.

1980s - Lee Shipping Company Limited
Lee Shipping Company was created to build on the existing skills of its founders and by the late 1980's it was clear that an increasing demand for reliable ship management services.

1990s - Lee Shipping Company Limited
By the mid-1990s Lee Shipping Company Limited grew to manage a fleet of 10 vessels ranging from general cargo ships to feeder container and MPP (Multi Purpose type vessels). As the fleet grew Lee Shipping Company began to diversify and managed ro-ro vessels and passenger ships (car and night ferries).

2000s - Lee Shipping Company (Shipmanagement) Ltd
Lee Shipping Company went through a period of further diversification in the 2000s, as well as ship management Lee Shipping Company handled the management of PSC (Port State Control) services for State-owned ports. By the mid-2000s, Lee Shipping Company was also managing dredgers and developing a consultancy business which covered everything from converting vessels to managing the re-engining of fast craft (fast ferries) at shipyards in Norway. By 2012 Lee Shipping Company were supervising the building of new MPP/container vessels in European shipyards for European ship owners.

2010 - Leeships Tanker Management Services - Lee Shipping (Tanker) Corporation Ltd - Lee Tankers
Lee Shipping (Tanker) Corporation Ltd was formed in 2010 to offer Tanker Management Services and specifically to manage aframax tankers and chemical tankers .

2020 - Leeport International Limited - Energy and Offshore Services
Leeport International Limited was created under a tripartite agreement with Leeships partnering with Seaport International Ltd (an offshore ship owner with 35 specialized offshore vessels) and Windward Energy Services (an international energy provider and subsidiary of Scott and English Energy Group). This newly formed entity was created to service offshore exploration and renewable energy projects world wide.

Today - Leeships Group
Lee Shipping Company has grown from a small ship management company into a group of companies and partners offering a one-stop shop for shipowners marketed under the collective brand of LEESHIPS. In 2015 an MOU was signed with an established ship management team based in Cyprus and Singapore, agreeing to the terms of a merger which added additional skills in tanker management, conversions, and refits. For a comprehensive list of references and an updated fleet list please contact Leeships directly.

Leeships - Our Logo
The Leeships logo (above) depicts a commercial ship on an even keel cutting through the deep blue ocean, an image that is intended to portray Leeships policy of trying to ensure that vessels under their management sail steadily and reliably while the shipowner rests soundly and with peace of mind ashore.